We have probably all seen the images from major hurricanes beamed around the world.  Those of us who have been impacted by hurricanes know their potential to disrupt, devastate and decimate school infrastructure.  As a result, thousands of students have their educational journey interrupted each year.  
Such major events not only have the power to disrupt a student's immediate education, they can also lead to other secondary impacts.
The impact of Hurricane Irma
Once of the most destructive hurricanes to strike in recent years was Hurricane Irma.  Hurricane Irma directly impacted the Caribbean and the Southern United States  in September 2017. Like the most Atlantic hurricanes, Irma  developed on 30th August near the Cape Verde Islands. Very warm ocean temperatures and extremely low pressures over the Atlantic gave  the storm its ferocious intensity. The hurricane first made landfall on 6th September along the northern coast of Barbuda with wind speeds of up to 282kph (175mph). It travelled north along the east coast of the Caribbean as a category five hurricane  It decimated the Virgin islands and just about everything else in its path. The hurricane reached Florida on 10th September as a category four hurricane with sustained winds of 209kph (130mph).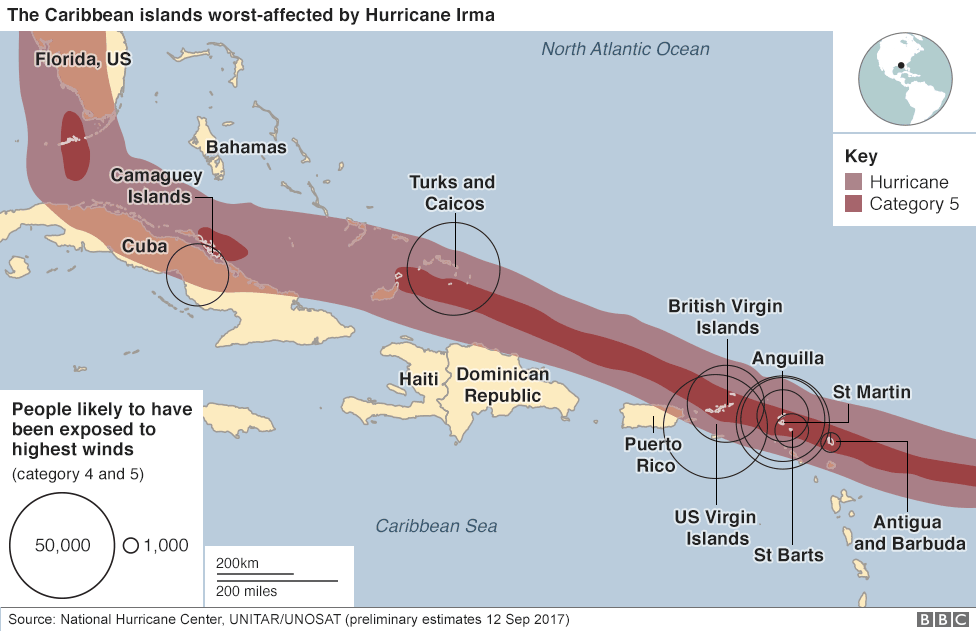 At least five people died in the British Virgin Islands during Hurricane Irma. The BBC's Laura Bicker reports on the devastation in Tortola.Please subscribe ...
I became very interested in the follow up operation as a result of my brother's  involvement in the construction of some of neighboring islands near Virgin Gorga.   From this involvement I learned of the lasting legacy of such events and their long term impact on schooling and educational infrastructure.  I was aware of small lasting impacts from my own experience of Bermuda, but I was quite a revelation to see the secondary impacts that cause such a long-term impact to small island states like the BVI.
The table below shows some of the short term and long term impacts of hurricanes on small islands.
| | |
| --- | --- |
| Short Term Impacts | Long Term Impacts |
| Local business services closed | Local business wiped out |
| Water and sanitation interrupted | Damage to bridges, docks and roads |
| Flooding | Major lasting damage to infrastructure |
| Damage and destruction of buildings and homes. | Loss of low income jobs |
| Interruption of Tourism (loss of foreign earnings) | Depopulation through emigration |
| Interruption/ destructions of utilities and communication infrastructure. | Loss of foreign income to make infrastructure more resilient. |
| Loss of banking facilities | Limited on going cash point access in outer islands |
| Shortage of fuel | Lack of affordable resilient housing |
Florida Meteorologist  Luke Dorris made the point that  some areas of South Florida have still not recovered.  Local residents were all too acutely aware that the lasting impact of a major hurricane like Irma is felt for years afterward.
"After the storm, not only will the homes be gone, but a lot of jobs were gone too."
Lindsey Anderson, executive director of the Florida Keys Community Land Trust.
The Challenges of Planning For The Future
There is no doubt that many small island nations face a very precarious future.  Leaders know this, but in reality they have many, many constraints to mitigation measures.  The Organisation for Eastern Caribbean States were recently looking at how they can reduce the flow of foreign exchange from their shores from their dependence on fossil fuel purchases.  They concluded that no paradigm shift could occur without outside investment partnership.   In this regard, the situation is the same for the development of a more resilient school system.  
Despite the cost, many islands have decided to escape the  trauma of another blanket power outage, amid a humanitarian crisis. Instead, they have plans.   Irma gave officials more of am impetus to move forward with alternatives.  Power outages significantly reduce the  chance to learn remotely. They also threaten  the  functionality digital communications network down.  
The BVI have been receiving help from the  Rocky Mountain Institute, a U.S.-based non-profit helping the island's renewable energy transition.
On the main island of Tortola, a privately funded 3-megawatt solar project led by local firm Caribbean Alternative Energy.  There are also initiatives from State utility providers.  There are plans to establish a  300-kilowatt hybrid solar, wind and energy storage system on Anegada, a remote northern island, once an agreement to lease crown land is signed.
There are also plans to spread the risk of outages by fitting solar panels on car-ports and school roofs on Tortola and Virgin Gorda, the BVI's third-largest island.
One of the ways in which the private sector will be encouraged to install solar devices is to ensure that residents can sell surplus electricity back to the grid. These micro measures are to ensure that all the electrical generation instruments are not all in one basket.
"The BVI will be a model for building stronger, smarter, greener and better, fostering a vibrant and innovative economy, cohesive and empowered society, nurtured and sustainable environment, resilient infrastructure, good governance and a high quality of life for all."
Recovery to Development Plan Of The British Virgin Islands
Impact on the British Virgins Island Education System
Interestingly, the impact of Hurricane Irma is measured in the easily quantifiable aspects like school infrastructure damage.  The extract below illustrates this point;
"The education sub-sector incurred significant damage mainly to the public school infrastructure. The hurricanes caused varying levels of damage to most of the public school facilities across the Virgin Islands. Six of the eighteen public schools were totally destroyed7 and were rendered unusable with the remainder experiencing mild to moderate damage to roof, windows and doors. The
main secondary school – Elmore Stoutt High School (ESHS), lost majority of its buildings and will have to be reconstructed. Private primary and secondary schools received some damage but were for the most part usable. The only tertiary institution - the H. Lavity Stoutt Community College (HLSCC) suffered major damage to the main building at Paraquita Bay Campus as well as the
Virgin Gorda satellite campus. Roof and window damage along with loss of furniture and equipment resulted in loss of teaching and classroom time. The closure period averaged from four to eight weeks depending on the extent of damage to school infrastructure. Total cost to education was approximately US$60.0 million."
Recovery to Development Plan Of The British Virgin Islands (page 9)
The report does briefly discuss the trauma of Hurricane Irma, but there does not appear to be any attempt to measure the impact on achievement or wellbeing. On a positive note, it spurred the BVI Government to try and move the educational reform agenda forward.
Building Back Better
Re imagining a better system to deliver more equitable outcomes was the dream from Puerto Rico to  Barbuda.  No jurisdiction desired to return to what was.  It had to be better.  That is easier said than done.  As mentioned before, change costs money and time.  Unesco established the Global Alliance for Disaster Risk Reduction and Resilience in the Education Sector (GADRRRES).
UNESCO Investing In The Future.
Global Alliance for Disaster Risk Reduction and Resilience in the Education Sector (GADRRRES). The Alliance, which UNESCO co-chairs while hosting the secretariat, promotes a comprehensive approach to DRR education based on three overlapping areas of focus (pillars):
Safe School Facilities

School Disaster Management

Risk Reduction Education
The goals of this Comprehensive School Safety (CSS) framework are:
to protect children and education workers from death and injury in schools;

to plan for educational continuity in the face of expected hazards;

to strengthen a disaster resilient citizenry through education;

to safeguard education sector investment.
The aims are quite holistic and go far beyond the buildings and infrastructure.  In the era of climate change, these conversations need to move forward so that real steps can be taken to ensure that Caribbean students are not disadvantaged by more frequent climate events.  After all, warmer oceans will birth stronger and more frequent hurricanes.   
How Do Hurricanes Impact Achievement in School? A Caribbean Perspective
IZA DP No. 10169 August 2016 Nekeisha Spencer, Solomon Polachek and Eric Strobl
No Description
Hurricane Resilience
Hurricane Resilience is a high school environmental science curriculum for use in coastal locations where hurricanes are common. Through 20 days of instruction, students make connections between the science of hurricanes, how they affect their community and region, and how we can plan for a more resilient future.  Read More
Additional Hurricane & Resilience Resources
It's the house the entire country was talking about: The one that was still standing after Hurricane Michael when the rest of Mexico Beach was flattened. Fou...
Irma, a category five hurricane, devastated Caribbean islands when it made landfall last week - a BBC team has been on the ground since the storm.Please subs...